Internationale Implantatstiftung
Wir sind eine gemeinnützige und wissenschaftlich ausgerichtete Stiftung des Privatrechts, die Patientenerfahrungen und Ergebnisse von
Zahnimplantat-Versorgungen nach Knochenaufbau
erfassen und bewerten möchte.
Ziel ist die Erstellung einer Studie zur dentalen Versorgungsrealität in Deutschland / Österreich / Schweiz.
Einsender (Patienten u.a.) erhalten eine fachliche Einschätzung und Bewertung, kostenfrei und vertraulich.
Bitte wenden Sie sich an:
Internationale Implantatstiftung München
contact@implantfoundation.org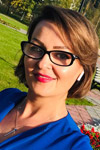 Mrs. Elena Chudnova
Born in 1975 in Mineralnye Vody, Stavropol, in the family of a military officer and an engineer. In 1986 she and her parents moved to the city of Kogalym in the Tyumen region, where she currently lives. After school she worked for LUKOIL and later in the Ministry of the Interior. At the same time she studied at the Faculty of Economics of the Russian New University (Moscow). In 2008 she graduated from the Law Faculty of the Moscow Open Social Academy (MOSA) and in 2011, after passing the qualification test, received the status of a licensed lawyer. She practices her professional in her own law firm and is a member of the Federal Lawyers Association of the Russian Federation. Her work in this profession extends across the entire territory of the Russian Federation. Since 2017 she has been teaching young lawyers, and as a trainer for all-Russian part-time courses on the basis of the "HELP" program of the European Council of Criminal and Family Law. She also cooperates with the Law Faculty of the Stavropol Territory and the Law Faculty of Professor Y. Garmaev in Buryatia. She studied at the European Court of Human Rights and the Council of Europe and is currently working on her doctoral thesis (in connection with her work as a lawyer in the field of criminal cases) at the Buryat University and the Moscow Institute of Applied Psychology. Her special interests are observation of the different ways of corruption in the field of medicine and dentistry.